I've had the Braketron Trurunner in my review queue for quite some time.  I wasn't avoiding reviewing it, but generally I review equipment by using it in my training (and/or racing) and, to be honest, my typical runs are long enough that I almost always need to carry water either in a FuelBelt or in a hydration pack.  With the temperatures cooling off, and with my training entering the taper before the inaugural Barrelman Triathlon this weekend, I finally had a chance to log a few km with the Truerunner.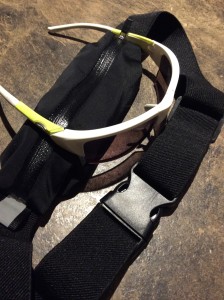 The Truerunner is, what I'd call, a stretch/stealth fanny pack.  The storage compartment is water resistant, pleated and stretchy to accommodate all the little bits you need to carry when heading out for a short run (keys, phone, id, some money, etc).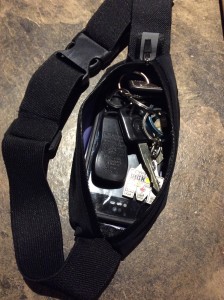 It's surprisingly accommodating and can hold a lot more than I expected it to hold.  The waist-strap is very adjustable and VERY elastic.  It fits comfortably, but because of the stretch you'll have to be careful about overloading the storage compartment.  When I overloaded the storage compartment I found I had to cinch the waist-band up uncomfortably tight to stop the pouch bouncing around as I ran.  I did this intentionally as a test and I don't think that with a reasonable load this would be a "real world" issue.  With my cellphone, keys and a $20 the bounce wasn't noticeable with the strap comfortably fitted.
There are a few of these types of stretchy micro-fanny-packs on the market today.  The ones I've seen seem to skimp on materials: no water-resistance in the pouch, narrow and not stretchy waist-bands, etc.  The Truerunner definitely has these lesser products beaten.
If you're looking for something to carry your bits'n'bobs for a short run, checkout the Trurunner.