Posted on Mar 02, 2014 under
Raves
|
Comments are off
I recently had the opportunity to perform an extended evaluation on the Compex MiSport Electronic Muscle Stimulation (EMS) system.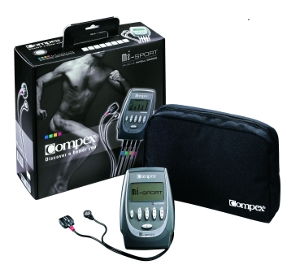 I'd hoped to do a similar treatment with the miSport as I had done previously the the Recovery Pump system.  But when I started working with the Compex I found it to be a very different animal than the recovery pump and doing a testing protocol with it just didn't make sense.
Let me try to explain. The recovery pump legs are essentially a 2-trick pony: using compression force metabolic waste out of your legs after a big workout; and, (also) using compression help refresh your legs with freshly oxygenated blood before a big workout.  The recovery pump  works the full length of both of your legs at once. All good, and really lends itself to a testing protocol where the preloading and recovery could shine.
The Compex is more like visiting a chiropractor or massage therapist or even a strength and conditioning coach, but a session with the Compex is limited to 1 or 2 muscle groups at a time (4 sets of pads, 1 set of pads per muscle group).  That said the Compex can still be used for recovery or potentiation: to do this you use the Compex to activate muscles at the extreme of the limb to encourage blood flow into the entire limb.   I found this to be a little less obvious, but it does work.
The Compex also really excels in rehab, strength and conditioning.  When I gained access to the Compex I was recovering from an upper-glute/lower-back strain that my chiro and I had linked to very tight hip flexors causing rotational stress thru my glute-med, glutes and lower back.  I'd been stretching, doing crab-walks with therabands, and a bunch of other exercises to target and strengthen the unbalanced muscles. I decided to add the Compex to the formula.  I spent 2 weeks, 2-3 times/week, doing a Compex strength program targeted at glute max and glute med while sitting watching TV or working at my desk.  The pain reduction and strength gains were noticeable almost immediately.  Being able to target these areas, for 30-45 minutes/day without putting more time aside for training was pretty epic.  Time is tight for most of us and being able to do these additional strength and conditioning sessions was amazing.  I could see this also being super useful if you were injured but wanted to reduce muscle wasting when you couldn't train.
One thing I really like about using the Compex,  for recovery, rehab or strength/conditioning is that there's no nervous system engagement or fatigue.  One thing endurance athletes can suffer from is not so much muscular fatigue, but rather neurological fatigue – where the brain and nervous system that's engaged in driving your muscles just gets tired of firing those pathways.  When a lot of people think they're bonking, it's sometimes nervous system fatigue.  Their bodies are still capable of much more, but their brain is saying "enough".  Because the Compex is driving the muscle directly, there is no mental fatigue: are recovery workout with the Compex is truly full body recovery (brain and nervous system too).
The miSport is a rechargeable device that holds a pretty serious charge.  I didn't sit with a stopwatch, but think the battery lasted about 8 hours of use and recharged fully after 2-3 hours.  The Compex also uses electrode pads that are reusable but do eventually lose their stickiness and need to be replaced.  I think my skin may be a little oily because I was initially going through a set of pads in 1 sitting (several applications).  After a while I started swabbing my skin with an alcohol pad before application and found the pads lasted 2-3 times longer.
The Compex miSport is a pretty cool and flexible device.  Definitely an awesome tool to add to your toolbox for all that it offers: pain management, recovery, rehab, and strength and conditioning.  Is it a "magic bullet" that means you don't have to train?  No.  (There's no such thing!)  But the Compex can help you maximize your time and target problem areas on concert with or instead of using a chiropractor, massage therapist or physical trainer.  Pretty sweet.
If you're in Canada feel free to reach out to the Compex Canada rep.  Derrick is a pretty great guy and he'll hook you up.
Derrick Nield, MSc
Field Sales Associate
Recovery Sciences Division
DJO Canada Inc.
A DJO Global Company
T 866 866 5031
F 866 866 5032
C 647 629 1012