Posted on Sep 27, 2014 under
Raves
|
Comments are off
I didn't really have a lot of opportunity to pre-ride the RudyProject Wing57 before my fall A-race, the Barrelman 70.3 distance on Sept 21st.  I'm usually all about "nothing new on race day" but I knew the helmet fit, so I went for it, and I was not disappointed.
The weather on the day was supposed to be cold, windy and rainy.  The race was a point to point and so we had limited ability to stage options in T1/T2.  I'd toyed with blocking the air vent in the front of the helmet to deal with the cold, but I'm glad that I didn't.  Coming out of the swim it was like running into a steambath.  The sun had broken through and the day was to be sunny, hot and windy instead of the forecast cold and rain.
A few things didn't go great on the bike, but, for certain, the Wing57 worked beautifully!  The ventilation built into the helmet kept my noggin comfortable, even when a hornet flew into and immediately out of the helmet.  I rode with the magnetic-attached extra fin at the back of the helmet and found that when I was on the aerobars and my head was in a comfortable position, the fin just lightly touched my back for total aero advantage.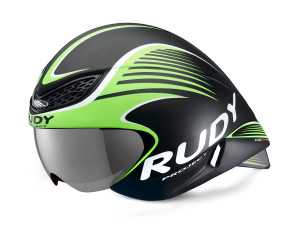 We always see a lot of Rudy Project at Kona.  This year I expect we're going to see many of these atop the heads of the best and fastest in our sport.  I know I'm planning to watch the day's broadcast and I'll certainly be playing "spot the wing57″!
Well done RudyProject – super comfortable, light, cool and aero brain-bucket!  Love it!