Posted on Jul 10, 2012 under
Raves
|
Comments are off
I've been a long-time fan of the Finis Swimp3.  I've evaluated many of the swimming music solutions out there, and found that I come back, without fail, to the Swimp3.
Earlier this year Finis released the Swimp3.2.  I thought: cool 2x the storage = more music (hurray)! But really didn't give it a lot more thought than that.  I had my Swimp3 and couldn't see buying v2 just for more storage.  Well after several hundred (maybe thousand) hours my v1 gave it up and I needed to upgrade.  Time do go for the Swimp3.2.
I'm happy to say, that Finis has made the best even better!  Read on.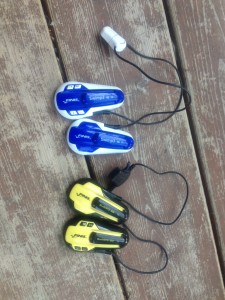 The profile is the same.  The colours are updated. The interface is the same.  2x the memory.  Same bone induction sound that, in my opinion beats everything else on the market.  The Swimp3.2 still suffers from one of my only beefs with the device: how the wires come out of the earpieces is a bit fragile and prone to wear and damage over time (how both of my v1's have died).  One definite improvement is the USB plug and cover: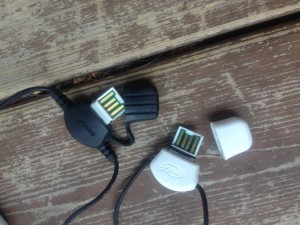 The V1 uses an o-ring and completely removable hard plastic cover (white).  The V1 suffers here in 2 ways: the o-ring can dry out over time allowing for a poor seal and the cap is easily lost.  The V2 has improved on this design: the cover is rubber, the whole cover is a  water seal and it is attached so you can't lose it.  The wires on the V2 are also supported by some of the rubber housing cover, which hopefully improves their durability a bit.
For what it's worth: when I'm traveling with my swimp3's I put them in an old extra hardshell glasses case.  1 pair of swimp3's fit nicely and the case protects the cables from snags and prevents accidental powering on of the swimp3 in your swim bag.