ElliptiGo is running a contest with the prize of a new ElliptiGO 8C valued at $2500.  Pretty sweet!
I've never tried an Elliptigo, but given that I HATE dreadmills and elliptical trainers in the gym (BORING!) this could be a great device for low-impact workouts post race/injury.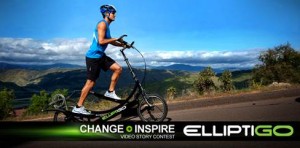 Here's ElliptiGO's press release on the contest.
---
SAN DIEGO, CA (August 2, 2012)— ElliptiGO Inc., creators of the first outdoor cross-training device specifically engineered for runners, today announced the launch of the ElliptiGO "Change + Inspire" Video Contest. Inspirational individuals are invited to submit a video with their story of how they would use an ElliptiGO to change their life and inspire others to change theirs. Entries must be received by August 30th to be eligible to win.
"Since we began creating the ElliptiGO more than seven years ago, we have been contacted by scores of incredible people who have touched us with amazing stories about how they want to use an ElliptiGO to change their lives," said Bryan Pate, Co-Founder and Co-President of ElliptiGO. "Understandably, many of these very inspiring individuals simply aren't able to afford an ElliptiGO at this time. And as a small start-up with limited resources and high manufacturing costs, we just haven't been able to donate ElliptiGOs to these deserving individuals. The Change + Inspire Contest is our first step towards changing that."
Individuals with inspiring stories can enter the contest by submitting their video through the "Change + Inspire" Tab on ElliptiGO's Facebook page from August 2 – 30, 2012. A panel of judges will review each entry and select a small group of finalists on August 31, 2012. These videos will be posted online for the public voting period which runs from September 1 – 14, 2012. At the end of that period, the entry with the most votes will win an ElliptiGO 8C.
"From taking on epic adventures, to overcoming physical limitations and getting healthy, we expect to receive some amazing stories through this effort," remarked Pate. "It has been wonderful to see how much impact an ElliptiGO can have on someone's life and we're looking forward to helping out the person who submits the most inspiring video."
The ElliptiGO Change + Inspire Video Contest is accepting entries from today through August 30, 2012. Videos selected as finalists will be posted for public viewing and voting from September 1 – 14, 2012. The winner will be announced after public voting is closed. Official Contest Rules are available on the "Change + Inspire" tab on ElliptiGO's Facebook page.
For more information about ElliptiGO and its products, visit www.elliptigo.com or follow them on Twitter @elliptigo and Facebook at www.facebook.com/elliptigo.