Posted on Aug 27, 2014 under
Raves
|
Comments are off
During a club ride a few months ago, I met one of the editors for Bicycling magazine who showed me a product he'd started using: the Koala Bottle.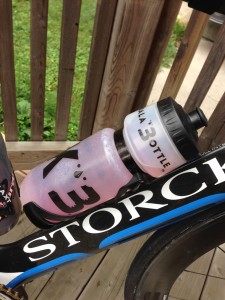 The Koala "bottle" is a bit of a misnomer, but rather a really well designed magnetic bottle retention system.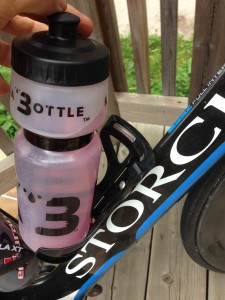 The system is comprised of a bottle with a ferrous ring and a "cage" with 2 super-strong magnets positioned to align with the ring.
Now, of course, you're thinking: "A magnet to hold a waterbottle?! No way, it'll pop off!"  Well, I can tell you after several hundred km with these mounted it's not been a problem on the bottles mounted on the downtube or the seat tube.   I also have one mounted between my arms on my aerobars.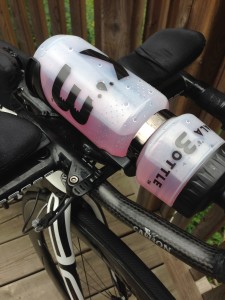 This one has bounced free once or twice after hitting a pretty significant pothole, but it reseated itself almost immediately.  I've also get a Koala bottle setup on my mountain bike, where it's taken some serious bumps (and falls) and the bottle has stayed firmly attached to the cage.
I have to say, I really love this system.  The bottles are held firmly, but are also easily accessible.  Clearly it isn't a solution to every problem (what is): you don't want to use this system behind the saddle as you could pretty much guarantee ejection there.  Using a strong-grip cage behind the saddle with these bottles to swap into active use works well.
You also probably don't want to use these bottles anywhere you're going to be ditching empty water bottles (perhaps use these for fuel and disposable bottles for water), since the rings are something you'd have to replace at a cost.
Small caveats aside, I really like what Koala bottle has done here.  Would love to see a carbon version to shave some weight, but really, compared to the weight of a bottle of water, the weight of the plastic in the "cage" is pretty minimal.