Posted on Nov 12, 2013 under
Raves
|
Comments are off
I've spent the last few weeks wearing and evaluating the wearability of the MyID medical and personal information bracelet from Endevr.  
(Apologies to the reader but I've blacked out bits of info here and there to keep some privacy from prying internet eyes.)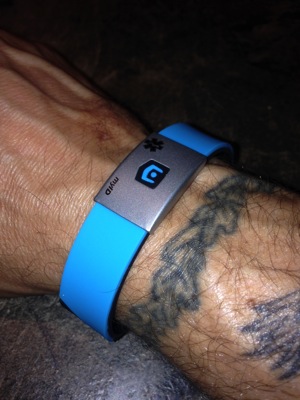 MyID is a similar product to the RoadID that I've reviewed here before.  I'm a big fan of running and cycling with some sort of id, and I think that carrying government issued id (driver's license, etc.) is risky if you lose it.  This is where these types of products really excel.  With the MyID you can carry your total medical and biographical info, at least as much as 1st responders would need, in a small wrist band.
The MyID band is a soft silicon band with a watch-style clasp.  You can see the MyID band (blue) beneath my yellow RoadID bracelet.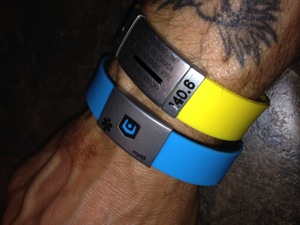 The band comes long, and you trim it to fit your wrist.  The kit comes with a sizing guide that gives you a rough indication of how much to trim off each end of the band.  Obviously you want to be cautious here, cut it long, and to back to trim if need-be.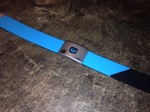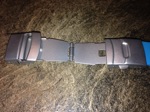 The MyID is not pre-engraved with static information for the owner.  Instead on the inside of the band is a serial number and pin.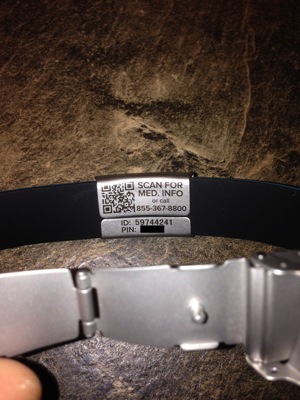 With this information the owner can setup an info page with medical conditions, contacts, name, address, allergies, etc.   1st responders also use this information to access your information page.   The web service is pretty solid: the interface is clean and quick, there are areas to enter all kinds of structured information about your stats, medical contacts, emergency contacts, any allergies, medications, medical conditions and then free-form areas for entering "other stuff" that you might wish that 1st responders were informed of if you were unable to speak for yourself.  Unlike custom engraved IDs, the MyID allows you to update your info whenever it changes.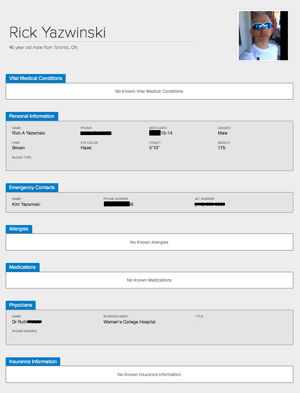 There is also an iPhone app to enter and maintain your profile information.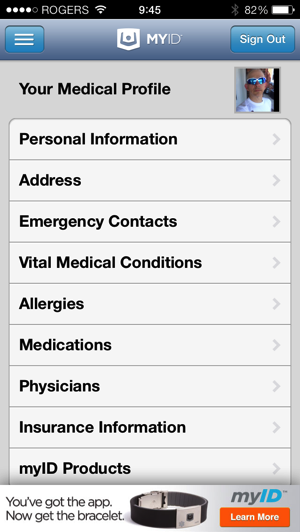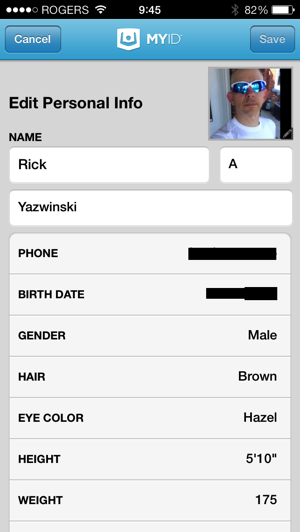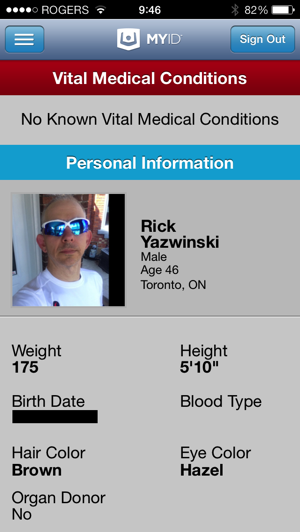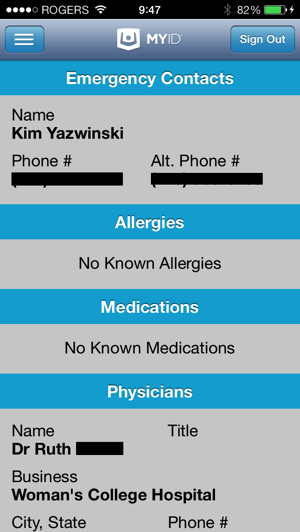 I have to admit that I was a little dubious about the merits of an ID and PIN-based ID system.  My health and contact info all fit into an engraved tag and I'd always felt that having it immediately available to 1st responders was valuable. With this doubt in mind I talked to a few police officers, several ambulance drivers, and a few folks in ER departments.  They agree that a decade or so ago having all the info on your wrist, immediately available, would have made a difference, but today the 1st responders are so well connected that looking up the info online or via a 800-number is just as good, and significantly better if the owner has significant medical conditions.
In Summary
The MyID offers a good option for an emergency ID that can speak for you in the event you cannot.  The web service that collects and presents your information is good.  The band is comfortable and durable. The only negative is that the web service and 800-number are available as an annual subscription.  Unlike printed bands where your information is totally on your wrist, the MyID service depends on you maintaining the paid subscription service.