Today I had to do a 3.5hr ride and brick run, the weather in Toronto was finally cooperative and I decided to take my new Storck Aero2is (aka Gertie) out for her maiden voyage, and I have to say that I'm very happy I did so, on a number of fronts.  The boys at Blacksmith Cycle did a great job putting her together and for her maiden voyage there were very few glitches.
Here's a pic of me and Gertie: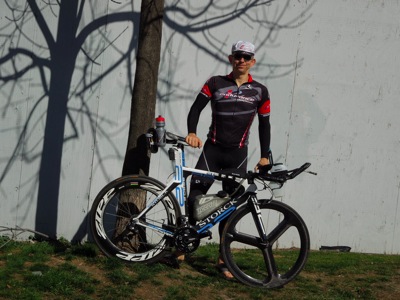 Was a great day for a ride today, temp in the low teens (Celsius), light winds, full sun: hard to beat especially in April in Toronto!  I was a little concerned about being cold (especially my feet) but was pretty good with a jersey, shorts, arm and leg warmers and gloves.
For fuel today I relied exclusively on First Endurance EFS Liquid Shot.  Liquid shot is amazing stuff: 400cal's per flask, comes in bulk quantities, has no gelling agents (which are sometimes causes of GI distress and are frequently diuretics), and has very high electrolyte levels (over 1.5g) and amino acids (over 1g).  If you haven't tried Liquid Shot, you've done yourself a disservice.  Also, First Endurance just released a new flavour of Liquid Shot: Kona Mocha.  This is probably the best flavour going (followed, in my opinion, by vanilla).  You have to try it!
Loving the DI2
Before I talk about any negatives, I have to rave about DI2.  I'll start by warning you: Don't test ride a bike with DI2 unless you're planning to upgrade to DI2!  Seriously!  On TT bikes and tri-bikes having the shifters on both the aerobar ends and on the brake levers, is ridiculously cool!  And cool in ways that I didn't expect!
I expected to love the extra shifters on the brakes when I had to stop or pull up a hill or suddenly needed to be in a lower gear than I had been, and sure, they're good for that.  But, they're also GREAT when you're up out of the saddle, cranking hard, and want to be in a higher gear (passing, climbing, getting cadence back up, etc.).  Being able to, with the touch of a finger, be in the gear you want to be in is FREAKING AMAZING!
Historically, I didn't go to indexed shifting because I found the indexing difficult to tune (especially if you were changing wheels or cassettes frequently)  and, psychologically, I found the indexing somehow more difficult to operate (don't ask – I know it doesn't make sense).  So I always turned off indexed shifting and used friction mode.  I found that in friction mode I shifted more often and maintained consistent power output better.  Well, move over friction, DI2 has clobbered that.  I now find myself shifting like a man possessed: "oh this is a little harder" <shift down>.. "this is too easy" <shift up>.  Power output: super consistent!  Love! LOVE! LOVE!!!
Teething Pains and Torhans Woes
Generally, Gertie is amazing! So much fun to ride: stiff, fast and responsive. There is, in fact, nothing about this bike I don't like! But I did have a few minor teething pains today. The two worth mentioning were the seat height adjustment and my frustrations with the Torhans 30 hydration system.
1st seat height: my 2nd biggest source of frustration on the ride.  6 times I had to stop and reset my seat height as the adjuster had loosened off from road vibrations.  I was a little nervous about over-tightening the adjuster as I didn't want to stress the frame (I'm going to see if there are torque guidelines for the adjuster, but haven't yet).   The adjuster is hard to describe, but it's a wedge that sits in front of the seat post and is pulled into a friction position with a screw.  Anyhow.. I've added a little friction tape to the assembly and think that this may solve the problem as there was really very little that the assembly could get purchase on to stop it from vibrating loose.  Definitely happy that I found (and hopefully fixed) this before NOLA in 2 weeks.  Of course, all the riding on the trainer didn't show this because there were no road bumps to shake it loose.  I'll have to get out on the road a few more times before I leave for NOLA to make sure this is sorted.
My biggest frustration on the ride though, has to be the Torhans 30 hydration system.  OH! MY! GAWD! I HATE this thing.  In Panama I used it for the 1st time and was sprayed with the contents repeatedly.  I just figured I was doing something wrong, so I hit the net and did some research.  I found some people who said they only filled similar systems 1/2 full to get around spray issues.  I found some other people who said to cut a little triangle out of the inner spray-back flap so that filling put more liquid into the bottle and less in the gap between the 2 covers.  Well, I tried both of these approaches today and I still ended up wearing a LOT of the contents of the bottle.  I got so frustrated with it, that at one point I was really tempted to yank it off the bike and drop it at the side of the road!   Suffice it to say, it's going (want it?  Make me an offer!)  I'll go back to a water bottle between the bars or better yet a Speedfil A2.
Baby Pictures
As promised here are some baby pictures of Gertie.
Here she is as ridden today, don't really love the HED Tri-Spoke but it's an ok training wheel: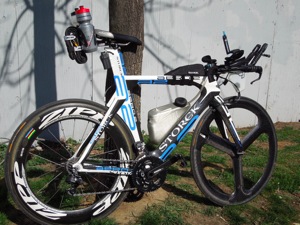 Love the Adamo Podium saddle, looks like one of the surprise potholes I hit dropped the nose a bit – it started the ride level!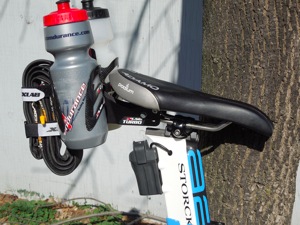 Classic speedfil for water – love this system: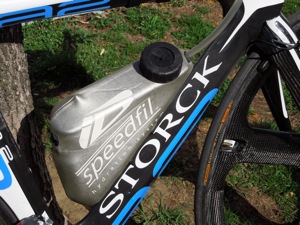 Quarq powermeter, Look Keo Blade pedals and DI2 (tasty!):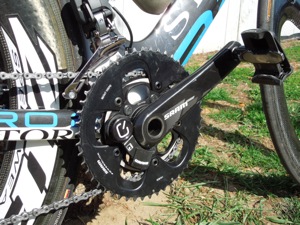 More Di2 (rear):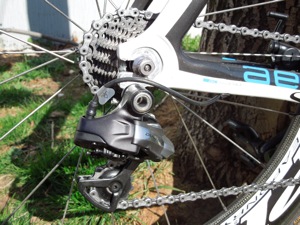 The cockpit, 910xt and the soon to be GONE Torhans 30: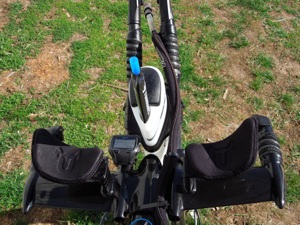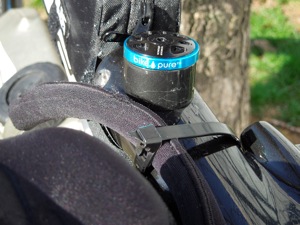 Want a ride like this?  I bet you do!  Talk to the folks at Blacksmith Cycle, they'll hook you up.  Storck isn't  a well known brand in North America (yet), but based on the performance of this beauty, that's soon going to change!  Wow! Just WOW!